Hey, it's 2010! That's weird, right? Anywho, I'm a pretty big fan of movies and tend to get jazzed about upcoming releases. I didn't think there was anything all that exciting coming out this year, but after a quick Google search, I was quickly proved incorrect. So here are the movies I am most excited for in the next 12 months.
Scott Pilgrim vs. The World
I'm a pretty big 'Scott Pilgrim' lover, and all the leaked images from this movie seem like Edgar Wright's staying really true to the series. But as much as I love Michael Cera, I'm very nervous that he's going to pull his whole neurotic weirdo schtick and blow the whole thing. But I'm trying not to focus on that. It'll be rad. I'm sure.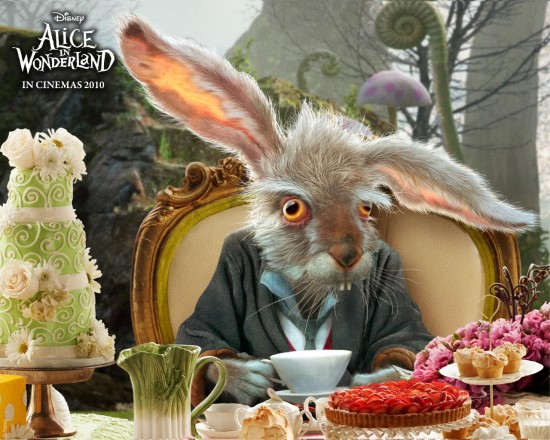 Alice in Wonderland
I'm an avid Tim Burton fan
and have been since I was a little kid, but his movies over the past few years seem to have lost that special spark they once had. When I heard he was doing

Wonderland

, I was convinced it would suck. After the first trailer, I was still pretty apprehensive, but after the second trailer and the release of more artwork from the film, I'm pretty psyched. It may still suck, but it'll be fabulous and pretty in 3D.
Iron Man 2
Though I'm a big reader of comics, I don't read many traditional superhero comics, I've never read any 'Iron Man,' and very little Marvel in general. So when I fucking
loved
Iron Man

, it was a bit of a shock. Robert Downey Jr. was phenomenal and as long as he gives the same type of energy he did in the first one, the second Iron Man will be a win, hands down.
Harry Potter and the Deathly Hallows Part 1
I haven't read any of the books, but I've watched all the movies, and they keep getting better. The first ones were cute and nice, but slowly they've gotten darker, scarier and more fantastic. I've had friends tell me everything that happens in the books, so plot-wise, nothing is a surprise, but it's so much fun to watch these crazy magic events play out on the big screen.
MacGruber
Yes, there is a MacGruber movie coming out. And yes, I'm really excited about it. The sketches on SNL aren't necessarily my favorite, but the collection of actors set to be in movie is pretty awesome and I've heard some early buzz that the movie is totally fun.
Inception
I really don't know much about Inception, and I'm trying to keep it that way. I know it's Christopher Nolan, and it has Joseph Gordon-Levitt and Leonardo DiCaprio,

and
there's some crazy stuff going on, but that's all I need to know. I'm going to avoid reviews and trailers until I can just go see it for myself. I fell like it will be a good thing.
I realize the list is packed with blockbusters and fantastical stuff, but that's okay. I'm sure I'll stumble across all kinds of awesome dramas and documentaries and good for my brain kinds of things, but these are what I'm really looking forward to.